Discussion
Winning feeling finally returns for NL
Tired of losing year after year, a group of old hands lead the way past AL
Originally Published:
July 13, 2010
By
Jayson Stark
| ESPN.com
ANAHEIM, Calif. -- Maybe you've heard stories from old men in rocking chairs about All-Star Games like this -- about All-Star Games won by that team known as "the National League."
There had, in fact, been games like that, you know. The history books tell us there had. They just happened a long, long, long, long, lonnnggggg time ago. That's all.
We were still in the first Bill Clinton administration the last time the National League won an All-Star Game. Guys like Tony Pena (Sr.) and ...

Read full story
81ST ALL-STAR GAME: NL 3, AL 1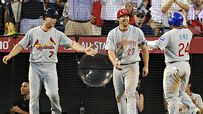 STORIES/FEATURES
VIDEO
PHOTO GALLERY