Discussion
Summer Audits: NFC East
The draft still in mind, Mel checks New York, Philadelphia, Washington and Dallas
Updated:
July 22, 2010, 2:29 PM ET
By
Mel Kiper Jr.
| ESPN Insider
The draft is obviously the focal point of the NFL offseason for me, but it certainly doesn't end there. The picks are only half of the equation; how well they fit with their new teams is where the draft is won or lost. And part of that has to factor in the personnel that teams have added around them.
So, with the draft clearly in mind, let's do a quick summer audit of the situations of the teams in the NFC East. So far, I've done the AFC West, NFC West, AFC South, NFC South, AFC North and NFC North. (You can find all the pieces in one place by going here.) I'll hit three things:
1. A crucial influx, such as an impact player or position group.
2. A question mark that still lingers.
3. If the team had a chance to pick anyone from the 2011 draft class right now to address a hole, who it would be. (Whether a team has an early pick in next year's draft isn't the issue -- it's just a hypothetical involving top college talent and current needs.)
So call it a checkup and a look ahead wrapped together -- part deep projection, part current need.

Crucial influx: I really don't think, given the way owner Jerry Jones runs the organization and based on what could be a tremendous opportunity for the receiver, that you'll see Dez Bryant run into the kind of situation Michael Crabtree did last year, when he lost half the season over contract issues. Assuming Bryant and the Cowboys complete a deal, he has the chance to be an integral part of a really dangerous passing attack from the beginning of the season. Miles Austin broke out last year, but Bryant should become a superior deep threat early in his career and has the size, speed and hands to be effective in every facet of the passing offense. Dez shouldn't miss out on making an early impact for a team with legit Super Bowl aspirations. I've heard people suggest that Sam Young could develop into a decent left tackle in this league, but I don't see it. He should be on the right side. Picking up Alex Barron was the best move Dallas made to its left side. I think Barron can be a little bit more than your standard insurance policy over there.
To read the rest of Kiper's NFC East analysis, you must be an ESPN Insider.
Insider
Kiper's Look Toward 2011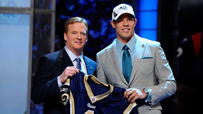 Mel is always going to be looking at the draft first, but he's also taking a close look at how teams have tweaked their personnel heading into camp. Who could be a help, who won't be and what players in the next draft would be nice to have around right now.
Kiper's Offseason Audits
Looking Back at the Draft