Discussion
Introducing the Eliminator
Tracking the contenders for conference and BCS title races
Originally Published:
August 30, 2010
By
Jeff Dooley
|
ESPN Insider
The Florida Gators and Alabama Crimson Tide fans might not want to hear it -- but there wasn't much separating the 2008 Gators team that won the SEC and BCS titles from the 2009 Crimson Tide squad that did the same.
Nobody is confusing Tim Tebow with Greg McElroy at the college level (yet), but the point is that there are basic similarities among all conference and BCS champions.
We ran the stats of every Division I team, looking specifically at the national and conference champions of the past several years, to find out what statistical categories correlate to college football success. Then we set statistical benchmarks for each league to see what's been required for each conference champion (for example, you better score a lot of points if you want to win the Pac-10; in the ACC, not so much).
We'll be checking back weekly by midseason in order to show how conference leaders and contenders are doing against our model -- but this serves as an introduction to "The Eliminator" (an earlier version appeared in ESPN The Magazine's 2008 college football preview issue).
Take a look below to see what it takes to win each league, and find out what teams and stats to keep an eye on this season.
For the full introductory breakdown of this concept -- all six BCS conferences and a look at the national title picture -- you must be an ESPN Insider.
Insider
2010 SEASON PREVIEW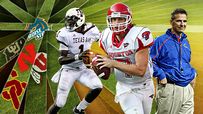 Will the SEC stranglehold on the title continue? Is this the year a BCS buster breaks through to the title game? What new stars will emerge? ESPN.com will answer all of those 2010 questions and more as we move toward the season's kickoff.
Preview home »
ACC
Big 12
Big East
Non-AQs
Notre Dame
Pac-10
SEC East
SEC West
Earlier Highlights
MORE COLLEGE FOOTBALL HEADLINES