Discussion
The call of Canton
The Pro Football Hall of Fame's Enshrinement Festival brings big names to a small town
Updated:
August 4, 2010, 3:21 PM ET
By
Eric Angevine
| Special to ESPN Sports Travel
• Photo gallery: The Pro Football Hall of Fame | Buy tickets to the Hall of Fame Game
"Does anybody know what this is?"
Gary Brahler holds up a rather nondescript object. It's white, roughly rectangular and about two inches thick.
"This is the only donated item that was ever taken back by the player who donated it," Harry Rotunno says. "These are Brett Favre's thigh pads. He donated them to us after his 'last game' with the Packers. They're the only kind he uses, and ...

Read full story
2010 PRO FOOTBALL HALL OF FAME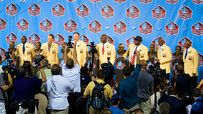 On Aug. 7, the Pro Football Hall of Fame welcomed seven new members: Emmitt Smith, Dick LeBeau, Russ Grimm, John Randle, Rickey Jackson, Jerry Rice and Floyd Little.
HOF page
|
Speeches
|
Photo Gallery
NEWS/COMMENTARY/BLOG POSTS
TRAVEL
VIDEO
PHOTOS