Discussion
Agony of defeat trumps thrill of victory
Originally Published:
August 2, 2010
By
Pat Forde
| ESPN.com
"The very thought of losing is hateful to Americans." -- George C. Scott, playing the Academy Award-winning lead role in the 1970 movie "Patton."
Gen. George Patton spoke from a wartime perspective. But the words apply to American society in general -- college football fans, players and coaches prominently included.
For a remarkable number of people who have an emotional stake in the sport, losing is more hateful than winning is joyful. The agony of defeat outweighs the thrill ...

Read full story
HOUSE OF PAIN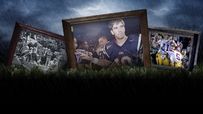 Nobody prepares to lose. So when your team suffers a crushing outcome, the agony stays with you indefinitely. We've got 50 torturous games to prove it.
House Of Pain »
Stories
Bloggers
Video
MORE COLLEGE FOOTBALL HEADLINES