Discussion
This list knows House of Pain well
There are losses, and then there are the gut-wrenching losses, the kind that leave you wanting to keep your head under the pillow for days and days.
These are the losses that leave college football fans with one thought when they awake the next morning: "That didn't really happen, did it?"
Yes, it did. And more times than not, you'll never forget the details of how it happened.
For some programs and coaches, whether it's because of happenstance or just plain, old, bad luck, ...

Read full story
HOUSE OF PAIN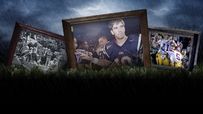 Nobody prepares to lose. So when your team suffers a crushing outcome, the agony stays with you indefinitely. We've got 50 torturous games to prove it.
House Of Pain »
Stories
Bloggers
Video
MORE COLLEGE FOOTBALL HEADLINES