Discussion
A Moment: Ndamukong Suh's arrival
NFL rookie Ndamukong Suh announced his arrival.
Updated:
August 24, 2010, 12:08 PM ET
By
David Fleming
| ESPN The Magazine
As he sinks his meaty fist into the soggy, hot, practice-field turf, Ndamukong Suh is ticked off. It's late May, and the Lions are holding organized team activities at their facility in Allen Park, Mich. The rookie defensive tackle still can't shake the feeling of how, during his first set of practices two weeks earlier, Detroit's veteran blockers manhandled him. Now, getting to the quarterback isn't enough for Suh, the second overall pick of the 2010 draft. He wants payback.
Down in his stance, Suh bobs his head and meets the gaze of offensive lineman Stephen Peterman, a sixth-year pro. In the Lions' ball-key defense, the 6'4", 307-pound Suh is expected to explode upfield while reading the play on his way to the ball. It's a little like learning to do Sudoku in the middle of a fire drill -- and it's the opposite of the read-and-react scheme in which Suh excelled at Nebraska. Many people consider him the most dominant defensive tackle in college football history, but when he came to the Lions, he resembled just about every other can't-miss lineman taken high in the draft over the years: tentative and overwhelmed.
To continue reading this article you must be an Insider
Insider
ESPN The Magazine: August 09, 2010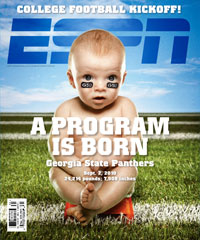 Check out the content from ESPN The Magazine's August 23, 2010 issue below.
Features
Videos