Discussion
But I Digress
Digress: Alligator feeding frenzy caught on tape
Updated:
August 12, 2010, 2:16 PM ET
By
Mike Suchan
| ESPNOutdoors.com blog columnist
Blog calendar: July 28 | July 19 | July 6 | June 21
posted July 28
Rare gator feeding frenzy caught on tape
You've got the Swallows of Capistrano, the Monarch migration in Mexico and now the Georgia Gators.
No, not football. And yes, Georgia.
Ray Cason has them on tape.
Cason was heading out fishing in Clinch County when he came a sight rarely seen — an alligator "feeding frenzy."
Cason taped what he estimated to be about 300 alligators ...

Read full story
WILDLIFE CAM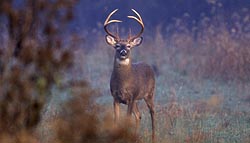 DEER CAMP BLOG
FEATURES
WILDLIFE CAMERAS
PHOTO GALLERIES
FACEBOOK
VIDEO
DEER MANAGEMENT