Discussion
College football's familiar names
Want to feel old?
Check out some of the names on the back of college football jerseys this season. You'll see the familiar names of your father's heroes and even some of your own.
There are famous names such as Collinsworth, Montana, Rice and Simms.
Maybe football mortality isn't won through blood, sweat and tears. Maybe it's just genes.
Here's a look at some familiar father-son combinations in college football in 2010:
1. Emory and Jeff Blake Father ...

Read full story
2010 SEASON PREVIEW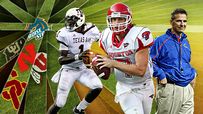 Will the SEC stranglehold on the title continue? Is this the year a BCS buster breaks through to the title game? What new stars will emerge? ESPN.com will answer all of those 2010 questions and more as we move toward the season's kickoff.
Preview home »
Stories
Roaring Twenties: Lists of 20 for '10
Bloggers
Insider
Video
MORE COLLEGE FOOTBALL HEADLINES