Discussion
The Jake Locker paradox
No. 1 next April? Quite possible. A great season for the Huskies? More dubious
Originally Published:
August 23, 2010
By
Bill Connelly
| Football Outsiders
Jake Locker of the Washington Huskies should, by all means, be a good NFL quarterback -- most people seem to think he will be. For this autumn, though, he's still a college football player and no matter how you would define success at the collegiate level -- be it wins, statistics, advanced statistics or some combination thereof -- Locker hasn't found it; last year the Huskies only went 5-7.
It's rare to find a QB receiving such lofty preseason accolades coming off a sub-.500 season. Arizona State's Andrew Walter in 2004 might be the last true example of such a thing, but Walter was only given marginal consideration, at best. To get the hype in the fall, you usually have to achieve to some degree the year before -- if not by winning games, then at least by lighting up box scores. For the most part, Locker has done neither. His career record is 8-20, and while his statistics are solid, they have been far from spectacular so far. But as he enters what is basically his third collegiate season (two-thirds of the 2008 year were wiped out due to injury), there is still time for him to succeed to some degree.
So, aside from being drafted No. 1 overall next April, what would success look like for Locker and the Huskies this fall?
For the full breakdown on Locker and comparable QBs, you need to be an ESPN Insider.
Insider
2010 SEASON PREVIEW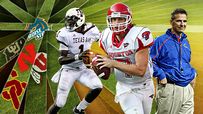 Will the SEC stranglehold on the title continue? Is this the year a BCS buster breaks through to the title game? What new stars will emerge? ESPN.com will answer all of those 2010 questions and more as we move toward the season's kickoff.
Preview home »
ACC
Big 12
Big East
Non-AQs
Notre Dame
Pac-10
SEC East
SEC West
Earlier Highlights
MORE COLLEGE FOOTBALL HEADLINES