Discussion
Aubrey Huff has an epiphany
After years of toiling on losers, the Giants first baseman is loving the pennant chase
Updated:
September 10, 2010, 11:03 AM ET
By
Tim Keown
| ESPN The Magazine
On a beautiful summer evening in the Bay Area, Giants first baseman Aubrey Huff drove home from the ballpark in a blissful stupor. Eleven years in the big leagues and he'd never really felt the buoyancy of a pennant race. Now, here he was on the last day of July, cruising home from a win over the Dodgers with a light heart and a clear head, finally a contender.
To find out the exact moment when Aubrey Huff learned to love the pennant race, you need to be an ESPN Insider.
Insider
ESPN The Magazine: September 20, 2010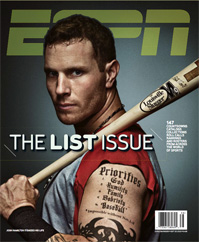 Check out the content from ESPN The Magazine's September 20, 2010 issue -- the List Issue -- below.
Features