Discussion
Wesley Matthews' dream sequence
A year ago, the Marquette grad wasn't drafted. So how did he land a huge contract?
Updated:
September 8, 2010, 5:22 PM ET
By
Eddie Matz
| ESPN The Magazine
The phone wouldn't ring. It was draft night 2009, and instead of watching the event unfold with family or throwing a party, Wesley Matthews went all hermit. He holed himself up in his high school gym and pretended it was just another sticky summer night in Madison, Wis. But it wasn't. No matter how many times the Marquette grad and All-Big East second-teamer walked over to the bleachers and checked his phone, basketball in one hand, sweaty cell in the palm of his other, the damn thing wouldn't ring. The analog clock mounted high on the cinder-block wall wasn't helping. Tick-tock, tick-tock, tick-tock. Made five hours seem like five days.
The NBA draft, like any selection process in pro sports, is an inexact science. At best, GMs are a group of prophetic soothsayers maniacally poring over carefully crafted and closely guarded lists to make informed and infallible decisions. At worst, they're playing a million-dollar game of pin the tail on the donkey. Guys who shouldn't get drafted do. Guys who should get drafted don't. "Mistakes are made all the time in the draft," says Chad Buchanan, director of college scouting for the Trail Blazers. "Wesley's not getting drafted was a big one."
To read more about Wesley Matthews you must become an ESPN Insider.
Insider
ESPN The Magazine: September 20, 2010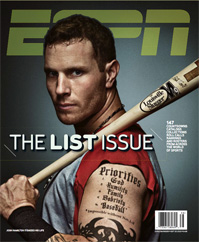 Check out the content from ESPN The Magazine's September 20, 2010 issue -- the List Issue -- below.
Features