Discussion
My other car is a Zamboni
There's no better family legacy than the most beloved machine in sports
Updated:
October 7, 2010, 5:52 PM ET
By
David Fleming
| ESPN The Magazine
They are the sweetest three words any red-blooded hockey knucklehead will ever get to hear. Just as I am exiting the understated Zamboni headquarters in Paramount, Calif., the newest gleaming, hulking, three-ton wonder lumbers out a factory door and stops directly in my path.
The temptation too great, I grab a handle far above my head and climb skyward into the driver's seat. Below me, company president Richard Zamboni, 78, steps up and protectively pats the rotund chassis ...

Read full story
ESPN The Magazine: October 4, 2010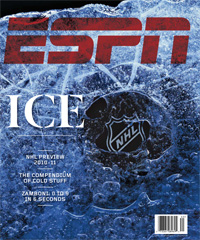 Check out the content from ESPN The Magazine's October 4, 2010 issue -- the Ice Issue -- below.
Features