Discussion
The Insider: MLB's momentum myth
Big Mo is a no-go once baseball's playoffs roll around
Updated:
September 24, 2010, 4:47 PM ET
By
Tom Haberstroh
| Special to ESPN The Magazine
As baseball's regular season comes to a close, teams eyeing the playoffs scroll down their checklists to prepare for the October grind: set rotation, rest banged-up players, order champagne. If building momentum is on their lists, they should strike it now.
A late-season roll has about as much impact on playoff success as a rally monkey does. It can boost morale, sure, but, more often than not, emotional highs spiral into October sorrows. The Rockies' storybook ride in 2007 -- 14 wins in the final 15 regular-season games, then two series sweeps to roll into the World Series -- was miraculous, but also the exception.
To see the staggering evidence against the importance of momentum, plus what playoff-bound teams should be doing down the stretch instead of striving for a couple of extra wins, sign up for ESPN Insider today.
Insider
ESPN The Magazine: October 4, 2010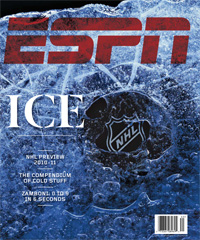 Check out the content from ESPN The Magazine's October 4, 2010 issue -- the Ice Issue -- below.
Features