Discussion
2010-11 Insider NHL preview
Originally Published:
September 27, 2010
ESPN Insider and Puck Prospectus
Insider is taking even you deeper into ESPN The Magazine's 2010-11 NHL preview -- the aptly-named Ice Issue -- with in-depth projections and a team-by-team look at every NHL team.
With the help of Puck Prospectus and their VUKOTA projection system, see how the season plays out for your favorite teams and players before it even starts.
Check back throughout the week as content is added. And be sure to sample from the cool collection of Ice Issue content, listed to your ...

Read full story
ESPN The Magazine: October 4, 2010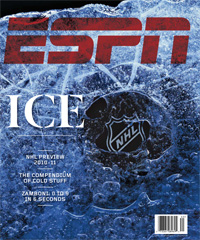 Check out the content from ESPN The Magazine's October 4, 2010 issue -- the Ice Issue -- below.
Features
Player Projections

See how the NHL stacks up for the 2010-11 season. Click any logo below to see how that team projects in eight key categories, weighted in terms of importance to on-ice success. To see how all 30 compare, click here.