Discussion
Pushing through the pain
Four-time Iditarod champ Lance Mackey has overcome more than his opponents
Updated:
October 7, 2010, 5:54 PM ET
By
Seth Wickersham
| ESPN The Magazine
LANCE MACKEY MAY be the toughest athlete on the planet. And while he's not one to brag, he will tell you a few stories. Like about the time in 2001, when he was 30 and racing the Iditarod for the first time. It was the goal of his new life, after he'd kicked the drugs and cut back on the booze. The race was in its final days, and even though he wasn't anywhere near the leaders, he was certain to finish, which meant he'd receive the belt buckle that all rookie Iditarod mushers get when they reach ...

Read full story
ESPN The Magazine: October 18, 2010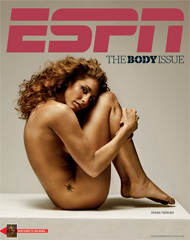 BUY YOUR FAVORITE BODY ISSUE COVER
Check out ESPN The Magazine's October 18, 2010 issue -- the Body Issue -- below.
Features
Video