Discussion
Body blurbs
Stories from the Body Issue shoots
Updated:
October 7, 2010, 2:04 PM ET
By
Nancy Weisman
| ESPN The Magazine
A second Body Issue under her belt, Mag Senior Deputy Photo Editor Nancy Weisman dishes on the behind the scenes dirt from some of this year's photo shoots.
Philippa Raschker: A tremendous woman. She was more comfortable nude than most are clothed. We chose a location in upstate NY where she could run and jump (a la log jump) into a swimming hole by a waterfall. The water was COLD and Phil jumped almost FIFTY times. Each time she landed you heard the "SMACK" of her ...

Read full story
ESPN The Magazine: October 18, 2010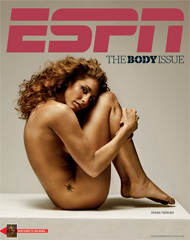 BUY YOUR FAVORITE BODY ISSUE COVER
Check out ESPN The Magazine's October 18, 2010 issue -- the Body Issue -- below.
Features
Video