Discussion
Cody Ross steps into starring role
Unlikely heroes emerge on the postseason stage, and this one stole the show in Game 1
Updated:
October 17, 2010, 10:23 AM ET
By
Jayson Stark
| ESPN.com
PHILADELPHIA -- It was supposed to be Tim Lincecum's night. It was supposed to be Roy Halladay's night. But somebody forgot to send that script to Cody Ross.
This is life in the crazy, mixed-up world of baseball in October. The heroes of October aren't necessarily the guys they send over from central casting.
"It seems like that happens every year," the Giants' Aubrey Huff said late Saturday night after Ross' stunning two-homer eruption off Halladay led Lincecum and the Giants to a ...

Read full story
LCS WRAP-UP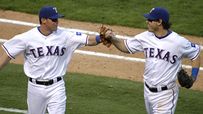 ALCS GAME 2: RANGERS 7, YANKEES 2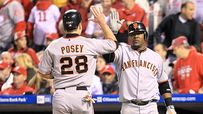 NLCS GAME 1: GIANTS 4, PHILLIES 3