Discussion
Josh Hamilton is No. 1
Updated:
November 1, 2010, 7:57 PM ET
ESPN
If Rangers center fielder Josh Hamilton were standing in the ESPN offices right now, he'd surely plead for all of his teammates to top the Cross-Sport Power Rankings with him. Sorry, Captain Humble, this is a ranking of athletic individuals and you're getting all the credit. Over the past week, Hamilton went 4-for-10 with two homers to help take Texas to its first World Series in franchise history. Because of this, our all-star panel agreed that the slugger deserved to be No. 1.
Rounding ...

Read full story
CROSS-SPORT POWER RANKINGS 2010

Cross-Sport Power Rankings compares the best athletes across all professional sports. Check out the rest of our individual sport power rankings.
MORE POWER RANKINGS
Complete MLB postseason schedule »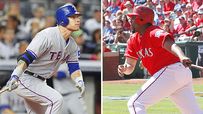 GAME 1: RANGERS-GIANTS, WED., 7:57 ET