Discussion
Rangers feel right at home
Why Texas could jump right back into the World Series
Updated:
October 30, 2010, 3:47 PM ET
By
Dave Cameron
| FanGraphs
With Cliff Lee's struggles in Game 1 and the bullpen meltdown in Game 2, the focus of the World Series has been squarely on the Rangers' pitching staff, and understandably so. However, overshadowed by their teammates' more noticeable failure is the fact Texas' offense hasn't lived up to its end of the bargain yet, either.
As a team, the Rangers are hitting just .227/.293/.303 through the first two games of the Fall Classic. For comparison, that's roughly the same offensive performance that Bobby Crosby had this year -- you know, the guy who the worst team in baseball got rid of for not performing up to its standards. No matter how you look at it, the Rangers simply haven't hit, and that will have to change tonight if they want to get back in this series.
To read more about how the Rangers can get back into the World Series, you must sign up for ESPN Insider today.
Insider
WORLD SERIES GAME 3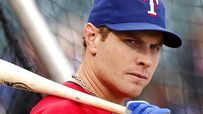 GIANTS AT RANGERS, 6:57 P.M. ET