Discussion
Edgar Renteria made the Rangers pay
With count 2-0 on Giants shortstop in seventh, Rangers shouldn't have pitched to him
Originally Published:
November 1, 2010
By
Bryan Smith
| FanGraphs
At this point in their careers, the difference between
Aaron Rowand
and
Edgar Renteria
as hitters is moot. Renteria was better in 2010, with a .314 wOBA to Rowand's .287, but he falls behind if we use two- or three-year averages. There is no reason (other than hindsight) the Rangers should have been more concerned with runners on second and third and Renteria at the plate than they should have been with the bases loaded and Rowand up.
However, then Cliff Lee threw a cutter that missed up, and a changeup high and away. Renteria had taken control of the count at 2-0, and at that point, not issuing a free pass was indefensible. Even when Rangers manager Ron Washington and pitching coach Mike Maddux decided not to issue an intentional walk from the dugout, Lee certainly should not have thrown another strike. But on the very next pitch, he grooved a cutter belt-high down the middle of the plate. Renteria belted the pitch over the left-center fence for the World Series-clinching runs. Quietly, on the next pitch, Rowand flied out to right field. In 2010, the average major league hitter put up a batting line of .257/.325/.403 (batting average/on-base percentage/slugging percentage). However, the composite line for big league hitters after a 2-0 count in 2010 was a robust .285/.510/.475. This represents a 30 percent increase in isolated slugging percentage. In the 1,227 regular-season instances in his career that Renteria has found himself with a 2-0 count, he has gone on to hit .316/.533/.461. He wasn't this good in 2010, with just one extra-base hit after getting ahead 2-0, but in that situation, he's certainly more dangerous than pitching to Rowand with a brand-new count.

To continue reading this article you must be an Insider
Insider
WORLD SERIES GAME 5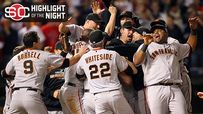 GIANTS 3, RANGERS 1