Discussion
Big Board sees O-line improving
Several bad NFL teams will be O-line shopping in April, and prospects are emerging
Updated:
November 3, 2010, 2:02 PM ET
By
Mel Kiper
| ESPN.com
Last April, teams within the top 10 picks of the draft had multiple options at offensive tackle. We saw Trent Williams land with the Redskins, Russell Okung land in Seattle, and there were a couple other guys who went later in the first round who certainly could have snuck into that range. The current class just isn't at that level.
Last week, in writing about the problems in Dallas, I noted how this is a rare draft where Dallas could be selecting very early, with the irony being the one area they need to address most -- the offensive line -- doesn't yet offer an elite pick. At least not yet. Several tackles are inching their way up the Big Board, with one who'd recently dropped off back on the Board this week. Perhaps teams shopping for a tackle won't be so inclined to trade down after all. As always, juniors and draft-eligible sophomores are noted with an asterisk.


QB
6-4
235

Analysis: It's not just the innate skills; the improvement is evident. Luck's completion percentage is up a full 10 percent over last season. Last week: No. 1

WR
6-4
207

Analysis: A tough day against Florida proved less about Green, and more about his team's inability to get him the ball when he gets open. Last week: No. 2

CB
6-1
202

Analysis: I'd be more concerned about Amukamara's zero interceptions in 2010 if any QB was willing to challenge him. Can he learn how to bait? Last week: No. 3

CB
6-1
211

Analysis: Amazing size-speed combo. If you think QBs are smart to avoid him (they do), maybe punters should too. Peterson averages 19.7 yards per return. Last week: No. 4

DE
6-4
267

Analysis: A freakish athlete with decent size, great quickness and pass-rush skills. Ineligible for the year, but scouts still in awe of talent. Last week: No. 5
To see what other moves have been made on the Big Board, you must be an ESPN Insider.
Insider
The 2011 NFL Draft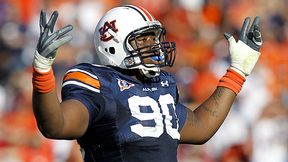 Scouts Inc. and Mel Kiper have Nick Fairley and all the top prospects covered from every angle as the pre-draft process unfolds.
Draft Tracker
|
Kiper Home
|
Draft Blog
Mel Kiper
Todd McShay's projections
Scouts Inc.'s draft coverage