Discussion
Keith Law's top free agents, Nos. 11-30
Hiroki Kuroda, Derek Jeter and Paul Konerko reside on this list
Originally Published:
November 7, 2010
By
Keith Law
| ESPN Insider
Welcome, again, to MLB free agency. It's a good class, although the 2009-10 group -- with Jason Bay, Matt Holliday, John Lackey et al -- might have been better. The full list of 2010-11 MLB free agents is here.
The second tier of available free agents includes some of baseball's biggest names from the past decade, highlighted by Derek Jeter, Manny Ramirez and Mariano Rivera. They sit in a dangerous spot for teams, as age makes them risky but history makes them expensive.
There also is a large contingent of designated hitters, ranging from established veterans such as Vladimir Guerrero and Jim Thome who simply cannot appear in the field, to big bats such as Paul Konerko whose time in the field might have passed.
Law's complete top 50: 1-10

| 11-30

| 31-50

To read Law's take on free agents 11-30, you must be an ESPN Insider.
Insider
Offseason Buyer's Guide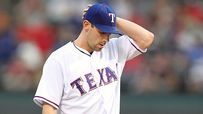 Cliff Lee headlines the 2010 free agent class, but who are the other players who could be changing teams this winter?
Buyer's Guide
Nov. 7:
Keith Law's top 50 free agent rankings
Nov. 8:
Buyers Guide: Starting Pitchers
•
Projecting the Starters
Nov. 9:
Buyers Guide: Relief Pitchers
•
Projecting the Relievers
Nov. 10:
Buyers Guide: Catchers
•
Projecting the Catchers
Nov. 11:
Buyers Guide: First basemen/DH
•
Projecting the first basemen
Nov. 12:
Buyers Guide: Middle infielders
•
Projecting middle infielders
Nov. 15:
Buyers Guide: Third basemen
•
Projecting the third basemen
Nov. 16:
Buyers Guide: Outfielders
•
Projecting the outfielders
Features
Nov. 5:
BP: Five biggest holes
Nov. 5:
Olney: Quieting the rumor mill
Nov. 5:
BIS: The next defensive makeover
Nov. 6:
BP: Five top moves
Nov. 10:
Olney: Top teams chasing Carl Crawford
Nov. 11:
Keating: Teams that shouldn't make a move
Nov. 13: BIS:
Finding hidden value free agents
Nov. 15: BP:
Shopping in the $0.99 bin
History
•
Law: 2009 top 50 rankings
•
Law: 2008 top 50 rankings
•
Law: 2007 top 50 rankings
•
Law: 2006 top 40 rankings