Discussion
Drag racing: The loudest sport
NHRA: Underestimeate the NHRA's decibel mightiness at your auditory peril
Updated:
November 5, 2010, 10:50 AM ET
By
Ryan McGee
| ESPN The Magazine
THREE OLD LADIES ARE RIDING ON A BUS. The first says to her friends, "It sure is windy."
The second says, "It's not Wednesday, it's Thursday."
The third yells, "I'm thirsty too. Let's get a drink!"
This is pretty much the conversation that I'm having with "Big Daddy" Don Garlits, the man considered to be the greatest drag racer ever to wrap his legs around a 7,000-horsepower engine and ride it down the strip like a pony. We're standing in the middle ...

Read full story
ESPN The Magazine: November 15, 2010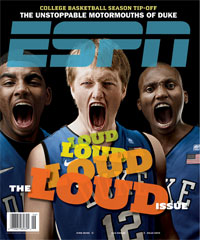 Check out ESPN The Magazine's November 15, 2010 issue -- the Loud Issue -- below.
Features