Discussion
College Basketball Confidential 2010
The Mag gets the lowdown on college basketball from the guys who know it best
Updated:
November 5, 2010, 6:34 AM ET
ESPN The Magazine
This fall, we interviewed 170 college basketball players for our always-tough confidential survey. As usual, we ended up with revealing answers from the players who play the games, a few of them smart alecks who did some surveying of their own. This confidential's Eddie Haskell is a standout America East player who answered all 20 of our questions, then had about 20 questions for us. "Do you know Doug Gottlieb?" he asked. Us: "Yes, he's a very nice guy." "How tall are you?" "Not as tall ...

Read full story
ESPN The Magazine: November 15, 2010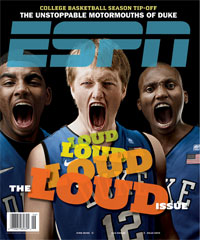 Check out ESPN The Magazine's November 15, 2010 issue -- the Loud Issue -- below.
Features