Discussion
Jasmine Thomas is key for Duke
Senior guard and coach McCallie hope to make most of their final season together
Originally Published:
November 9, 2010
By
Graham Hays
| ESPN.com
Entering her fourth season as Duke's coach, Joanne P. McCallie for the first time has a roster comprised almost entirely of players she recruited. Yet amid the talent carefully assembled to fit her particular philosophy of basketball, it's the one who got away who will play the biggest part in attempting to guide the Blue Devils back to the Final Four for the first time since 2006.
From the beginning, McCallie knew Jasmine Thomas was the kind of player you could build a ...

Read full story
2010-11 Season Preview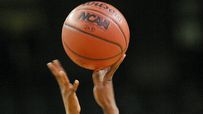 Get ready for 2010-11 with ESPN.com's women's college basketball preview.
Friday, Nov. 12
•
ESPN.com's Preseason All-Americans
•
Maya Moore three-peat: Preseason POY
•
Predictions: League winners, five contenders
•
Voepel: Baylor a Final Four favorite
Thursday, Nov. 11
•
Voepel: Summitt optimistic at Tennessee
•
Hays: Elite Eight losers back for more
•
Hays: Mid-major players to watch
•
Hays: Mid-major top 10 (and then some)
Wednesday, Nov. 10
•
Top five players at each position
•
Hays: 10 more players to watch
•
Voepel: VanDerveer just 'giddy' at Stanford
Tuesday, Nov. 9
•
Voepel: Coach G's Texas-sized task
•
Hays: Thomas, McCallie united at Duke
•
Hays: No keeping down Iowa's Alexander
Monday, Nov. 8
•
ESPN.com preseason top 10
•
Voepel: A look at 2010-11
•
Hays: UConn must be more than Moore
•
ESPN The Mag: Brittney Griner's ready
MORE WOMEN'S BASKETBALL HEADLINES