Discussion
Hidden value for MLB free agents
Adam Dunn, Victor Martinez and others are overvalued due to poor defense
Updated:
November 16, 2010, 12:41 PM ET
By
Ben Jedlovec
| Baseball Info Solutions
Carlos Pena and Adam Dunn don't seem that different. Both bat left-handed, play first base and filed for free agency. Both are what you might call "three true outcome" players: They strike out in bunches and have low batting averages, but they compensate with extreme patience and power.
Pena, 32, is coming off a poor offensive season, failing to hit above .200 (bringing his on-base percentage down to .325) and seeing his home run total drop from a league-leading 39 in 2009 to 28 in 2010. Meanwhile, Dunn -- who turned 31 this week -- has been a model of consistency, except for a disturbing 30 percent drop in walk rate this past season.
To read more about whether Carlos Pena or Adam Dunn is a more valuable free agent and which FAs are overvalued and undervalued on account of their defense, you must be an ESPN Insider.
Insider
Offseason Buyer's Guide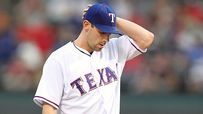 Cliff Lee headlines the 2010 free agent class, but who are the other players who could be changing teams this winter?
Buyer's Guide
Nov. 7:
Keith Law's top 50 free agent rankings
Nov. 8:
Buyers Guide: Starting Pitchers
•
Projecting the Starters
Nov. 9:
Buyers Guide: Relief Pitchers
•
Projecting the Relievers
Nov. 10:
Buyers Guide: Catchers
•
Projecting the Catchers
Nov. 11:
Buyers Guide: First basemen/DH
•
Projecting the first basemen
Nov. 12:
Buyers Guide: Middle infielders
•
Projecting middle infielders
Nov. 15:
Buyers Guide: Third basemen
•
Projecting the third basemen
Nov. 16:
Buyers Guide: Outfielders
•
Projecting the outfielders
Features
Nov. 5:
BP: Five biggest holes
Nov. 5:
Olney: Quieting the rumor mill
Nov. 5:
BIS: The next defensive makeover
Nov. 6:
BP: Five top moves
Nov. 10:
Olney: Top teams chasing Carl Crawford
Nov. 11:
Keating: Teams that shouldn't make a move
Nov. 13: BIS:
Finding hidden value free agents
Nov. 15: BP:
Shopping in the $0.99 bin
History
•
Law: 2009 top 50 rankings
•
Law: 2008 top 50 rankings
•
Law: 2007 top 50 rankings
•
Law: 2006 top 40 rankings