Discussion
Mayne Street: Ryan Fitzpatrick
Kenny Mayne chats with the Buffalo Bills' QB
Updated:
November 19, 2010, 10:21 AM ET
By
Kenny Mayne
| ESPN The Magazine
Operator: Today's conference is being recorded.
RF: Today's conference is being recorded?
KM: It's in case an athlete decides to sue us later. We're very concerned about that.
RF: I have some friends who could sue for me, but I don't think I would.
KM: You graduated from Harvard. Ever think you'd break through the way you have this season? Or were you keeping your degree handy just in case?
RF: I wasn't expecting to play this early. That old degree is sitting in the wings, waiting for the day I have to use it.
KM: What if you forget everything you learned?
RF: Well, it's a Harvard economics degree. Even if you don't really know as much as people think, you can just show the degree and be okay.
To read the rest of Kenny's interview with Ryan Fitzpatrick, you must be an ESPN Insider.
Insider
ESPN The Magazine: November 29, 2010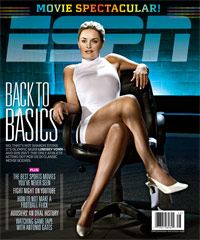 Check out ESPN The Magazine's November 29, 2010 issue -- the Movie Spectacular -- below.
Features
Video