Discussion
Tapping out, breaking in
Underground fight clubs continue, and so do web videos of the brawling action
The YouTube warning gets my pulse racing. "This video may contain content that is inappropriate for some users." Inappropriate, you see, is what I want. I've spent the past hour looking for bloody, primal fighting, the kind I'm told is lurking on the web if you know where to search. But like any fight club worth getting into, it's not easy to find.
Forget searching for "MMA video." Neither "hardcore MMA" nor "backyard MMA" takes me as low as I want to go either. Then it hits me. If you're looking for the next big thing in the viral underground, where better to head than the place that launched the last big thing? It's been a few years since Kevin Ferguson, a.k.a. Kimbo Slice, burst onto the national stage as a YouTube sensation, but his old crew of "backyard video entrepreneurs" is still around. And they're trying to make those quote marks a thing of the past.
To read more about DaDa 5000's underground fight club, you must be an ESPN Insider.
Insider
ESPN The Magazine: November 29, 2010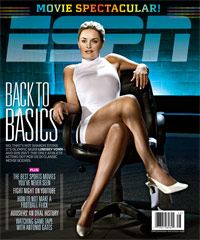 Check out ESPN The Magazine's November 29, 2010 issue -- the Movie Spectacular -- below.
Features
Video