Discussion
Wildlife Camera 1
Updated:
November 22, 2010, 2:26 PM ET
ESPNOutdoors.com
Camera 1 Close UpCamera 2LunkerCam
A wide-angle lens points west on the 3-acre food plotCatch wild turkeys feeding throughout the dayWatch the fish feed each Mon. and Wed. at 1 p.m. ET(click a photo to view camera)
The Wildlife Cameras are temporarily down, but we are working on getting them back up and running as soon as possible.
-->
Welcome to the ESPN Outdoors Wildlife Camera
This page highlights the wildlife on a food plot we have ...

Read full story
WILDLIFE CAM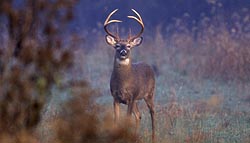 DEER CAMP BLOG
FEATURES
WILDLIFE CAMERAS
PHOTO GALLERIES
FACEBOOK
VIDEO
DEER MANAGEMENT