Discussion
Cain Velasquez is world's baddest dude
At least for now, the MMA heavyweight is as close to perfection as fighting gets
Originally Published:
December 1, 2010
By
Jeff MacGregor
| ESPN The Magazine
He punches the air. He exhales sharp and hard and punches the air. He kicks at the air and spins and kicks again.
His expression is the absence of expression.
He punches at nothing and kicks at nothing and punches and kicks and spins again.
"Perfect," says the photographer.
This is what it means to be the new MMA heavyweight champion of the world. This is what it means to be Cain Velasquez.
Velasquez is big, but not as big as your imagination wants him to be. On the night of Oct. 23, he became the UFC heavyweight titleholder by beating Brock Lesnar. By beating him badly. He did this by being better at more things than Lesnar. By being more evolved.
To read more about Cain Velasquez, the perfect MMA fighter, you must be an ESPN Insider.
Insider
ESPN The Magazine: December 13, 2010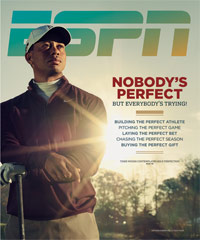 Check out ESPN The Magazine's December 13, 2010 issue -- the Perfect Issue -- below.
Features