Discussion
Cliff Lee not a bad seven-year bet
Should a team be willing to go seven years for Cliff Lee? We project the totals
Originally Published:
December 7, 2010
By
Dan Szymborski
| Special to ESPN Insider
As our rumor mill has shown, one of the big storylines of the ongoing MLB winter meetings is which team might be willing to not merely give top free-agent pitcher Cliff Lee the most cash -- it's which team might give him the most security. We're talking years. Some rumors have the Washington Nationals as a team that might be willing to go as far as seven years in a deal. Given the Nats' aggressiveness in the market thus far, and the significant length of the deal they handed Jayson Werth, as a projection exercise, we decided to project how Lee might fit in D.C. long-term.
After all, given the amount of money being discussed, it's a near certainty that teams contending for Lee's services are considering their own projections.
What did we find?
While the Nationals may have been rash in giving Werth so much money over so many years, they're doing the right thing in following up by exploring Lee.
For the full projections, you need to be an ESPN Insider.
Insider
Offseason Buyer's Guide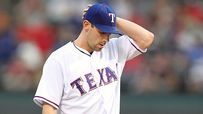 Cliff Lee headlines the 2010 free agent class, but who are the other players who could be changing teams this winter?
Buyer's Guide
Nov. 7:
Keith Law's top 50 free agent rankings
Nov. 8:
Buyers Guide: Starting Pitchers
•
Projecting the Starters
Nov. 9:
Buyers Guide: Relief Pitchers
•
Projecting the Relievers
Nov. 10:
Buyers Guide: Catchers
•
Projecting the Catchers
Nov. 11:
Buyers Guide: First basemen/DH
•
Projecting the first basemen
Nov. 12:
Buyers Guide: Middle infielders
•
Projecting middle infielders
Nov. 15:
Buyers Guide: Third basemen
•
Projecting the third basemen
Nov. 16:
Buyers Guide: Outfielders
•
Projecting the outfielders
Features
Nov. 5:
BP: Five biggest holes
Nov. 5:
Olney: Quieting the rumor mill
Nov. 5:
BIS: The next defensive makeover
Nov. 6:
BP: Five top moves
Nov. 10:
Olney: Top teams chasing Carl Crawford
Nov. 11:
Keating: Teams that shouldn't make a move
Nov. 13: BIS:
Finding hidden value free agents
Nov. 15: BP:
Shopping in the $0.99 bin
History
•
Law: 2009 top 50 rankings
•
Law: 2008 top 50 rankings
•
Law: 2007 top 50 rankings
•
Law: 2006 top 40 rankings