Discussion
Coaches are kindred spirits
Geno Auriemma, John Wooden emphasize unselfish, disciplined mindset in hoops, life
Regardless of what happens Sunday at Madison Square Garden, UCLA's record of 88 consecutive wins will remain the standard for the sport in which it was set, men's collegiate basketball. It's something that -- considering the reality of early entry into the NBA draft and many other factors -- seems highly unlikely to ever be broken.
What Connecticut's women's team seems on the verge of doing -- although opponent Ohio State still has something to say about it -- runs parallel to ...

Read full story
UConn's Record Run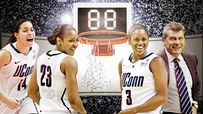 Connecticut surpassed legendary coach John Wooden and the UCLA men's NCAA Division I basketball winning streak (1971-74) of 88 consecutive victories on Dec. 21. The Huskies earned win No. 89 in a row as Maya Moore scored 41 points in a 93-62 victory over FSU.
89 and Counting
•
Jackson: Sportsman of the year is a woman
•
Howard: A final frontier for Geno Auriemma
•
Hays: Moore, Auriemma an unbeatable team
•
Voepel: UConn streak all that and Moore
•
Moore scores 41 points in win
• Video:
Schaap puts streak in perspective
• Video:
President Obama calls Auriemma
• Video:
SportsCenter's Highlight of the Night
• Video:
Moore, Auriemma comment on No. 89
•
Wooden would've loved UConn, grandson says
•
Women's Hoops Live recap
•
UConn's streak by the numbers
•
Memorable UConn wins along the way to 89
88 and Counting
• Video:
Auriemma's 5 Good Minutes on PTI
• Video:
Former UConn players discuss streak
•
Voepel: UConn's intimidation factor
• Video:
Moore, former Huskies debate streak
•
Reactions to Auriemma's fiery comments
• Video:
First Take debates Auriemma quotes
•
Hays: Celebrate, not compare, UConn, UCLA
•
Voepel: A perfect comparison
•
Shelburne: Wooden wouldn't have minded tie
• Video:
Burke breaks down UConn's win
•
Auriemma: Fans dislike women tying men
• Video:
Hill, Bayless debate Geno comments
• Video:
Huskies rout Ohio State 81-50
•
UConn wins 88th to match UCLA men
87 and Counting
•
Voepel: Auriemma, Wooden kindred spirits
• Video:
John Wooden's Pyramid of Success
• Video:
Auriemma on UConn's journey to 87