Discussion
Celebrate, not compare, UConn & UCLA
How UConn got here and the high standard Huskies and Bruins set should be the focus
Originally Published:
December 19, 2010
By
Graham Hays
| ESPN.com
NEW YORK -- The sizable lighted tree at Rockefeller Center, a mile or so from Madison Square Garden in Manhattan, is a reminder that this is a season for celebration. For Connecticut, it need not be a season of comparison.
One more win and the University of Connecticut women's basketball program will stand alone atop the mountain. At least, that's the conventional wisdom after the nation's top-ranked team defeated No. 10 Ohio State 81-50 on Sunday. With victory No. 88 in a row, and ...

Read full story
UConn's Record Run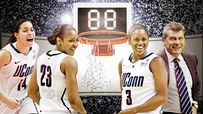 Connecticut surpassed legendary coach John Wooden and the UCLA men's NCAA Division I basketball winning streak (1971-74) of 88 consecutive victories on Dec. 21. The Huskies earned win No. 89 in a row as Maya Moore scored 41 points in a 93-62 victory over FSU.
89 and Counting
•
Jackson: Sportsman of the year is a woman
•
Howard: A final frontier for Geno Auriemma
•
Hays: Moore, Auriemma an unbeatable team
•
Voepel: UConn streak all that and Moore
•
Moore scores 41 points in win
• Video:
Schaap puts streak in perspective
• Video:
President Obama calls Auriemma
• Video:
SportsCenter's Highlight of the Night
• Video:
Moore, Auriemma comment on No. 89
•
Wooden would've loved UConn, grandson says
•
Women's Hoops Live recap
•
UConn's streak by the numbers
•
Memorable UConn wins along the way to 89
88 and Counting
• Video:
Auriemma's 5 Good Minutes on PTI
• Video:
Former UConn players discuss streak
•
Voepel: UConn's intimidation factor
• Video:
Moore, former Huskies debate streak
•
Reactions to Auriemma's fiery comments
• Video:
First Take debates Auriemma quotes
•
Hays: Celebrate, not compare, UConn, UCLA
•
Voepel: A perfect comparison
•
Shelburne: Wooden wouldn't have minded tie
• Video:
Burke breaks down UConn's win
•
Auriemma: Fans dislike women tying men
• Video:
Hill, Bayless debate Geno comments
• Video:
Huskies rout Ohio State 81-50
•
UConn wins 88th to match UCLA men
87 and Counting
•
Voepel: Auriemma, Wooden kindred spirits
• Video:
John Wooden's Pyramid of Success
• Video:
Auriemma on UConn's journey to 87