Discussion
Hindsight is 2010
Updated:
December 28, 2010, 8:04 PM ET
ESPNLosAngeles.com
Our writers discuss their most memorable stories of 2010. (Click on the headlines to revisit the stories.)
Vulnerable Kobe: An appreciation
By Brian Kamenetzky, June 18
The Los Angeles Lakers' Game 7 of the NBA Finals against the Boston Celtics was billed in many circles as the most important of Kobe Bryant's career. Rarely do these games meet expectations in terms of the teams on the floor or the individual players.
Game 7 met both, in unexpected ways. Kobe ...

Read full story
HINDSIGHT IS 2010: YEAR IN REVIEW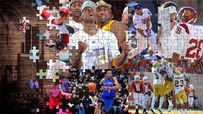 ESPNLA.com salutes the year that was, remembering the stories and images that mattered in Los Angeles.
YEAR-END FEATURES
THE YEAR IN PHOTOS