Discussion
Under new ownership
After a year in which more was lost than gained, L.A. looks to its new leaders
Pete Carroll left first, and looking back I suppose we should've realized something was up.
With the exception of another title for Los Angeles' only exceptional team, much more would be lost in 2010 than gained.
Within the first two weeks of the new year, Carroll was shockingly gone from the USC Trojans -- ahead of NCAA sanctions, behind a cloud of uncertainty, leaving little trace of the unprecedented success we'd all started to take for granted.
His departure came out ...

Read full story
HINDSIGHT IS 2010: YEAR IN REVIEW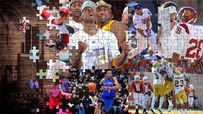 ESPNLA.com salutes the year that was, remembering the stories and images that mattered in Los Angeles.
YEAR-END FEATURES
THE YEAR IN PHOTOS