Discussion
New Year proves cruel to Big Ten
I can't confirm whether Big Ten commissioner Jim Delany is now considering "Losers" and "Laughingstocks" as names for his expanded league's future divisions.
I can't confirm whether Ohio State quarterback Terrelle Pryor and his teammates were at a New Orleans ink parlor on Saturday night, having their "2010 Big Ten Co-Champions" tatoos removed from their biceps.
I can confirm the Big Ten got taken to the woodshed on New Year's Day.
The first ...

Read full story
BCS BOWL GAMES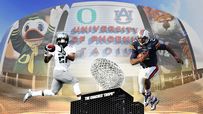 The BCS bowl games are set. Get all the information you need right here. Bowls Home »
STORIES
BCS TITLE GAME
ROSE BOWL
FIESTA BOWL
ORANGE BOWL
SUGAR BOWL
VIDEO
GAME HOME PAGES
MORE COLLEGE FOOTBALL HEADLINES