Discussion
The Big Board loses Luck
A big draft decision has changed the way the Big Board will look from here on out
Updated:
January 6, 2011, 6:40 PM ET
By
Mel Kiper
| ESPN.com
Andrew Luck will be a great NFL quarterback. Everything about the way he plays and reads the game says as much. But he doesn't have to start the process at the NFL level this year, a fact reinforced even more by the way onetime potential No. 1 pick Sam Bradford didn't after his 2008 season. The reinforcement, of course, isn't just in that Bradford eventually became a No. 1 pick but also by the way in did it. Bradford came back to college, surprising many of us who would have a hard time telling anybody to pass on guaranteed lifetime of financial security, and he suffered an injury to his throwing shoulder almost immediately into the 2009 season. He was largely absent from Oklahoma's 2009 campaign.
But scouts believed in Bradford's talent, and the rest is recent history. I think Luck's status in the eyes of scouts far surpasses even Bradford's. And for someone as mature and self-aware as Luck, the decision to return to Stanford for what will be just his junior year as a former redshirt is one it's hard to fathom he'll regret. He'll be fine, his career will be good and the draft will still go on without him. So will the Big Board. For what it looks like now, see below. As always, juniors and draft-eligible sophomores are noted with an asterisk.


DE
6-4
277

Analysis: A possible No. 1 pick with Luck opting to stay in school, Bowers has followed through on his talent. A former top-rated overall recruit. Last week: No. 2

DT
6-5
310

Analysis: Fairley simply dominated and has one more showcase game for scouts. He often was a force even while not 100 percent. A top-10 lock currently. Last week: No. 3

WR
6-4
207

Analysis: Not sure people realize what kind of route-runner he's become. Green has worked hard to become a complete WR. Last week: No. 4

CB
6-1
211

Analysis: An extraordinary athlete, Peterson doesn't just have safety size -- he'd measure up to a lot of RBs. Great total package -- cornerback and return game. Last week: No. 5

CB
6-1
202

Analysis: Top marks for instincts, ball awareness and ball skills. It's as if he's running the route sometimes. Immediate starter. Last week: No. 6
To see what other moves have been made on the Big Board, you must be an ESPN Insider.
Insider
The 2011 NFL Draft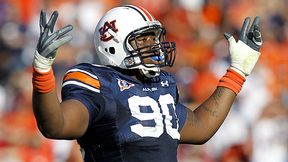 Scouts Inc. and Mel Kiper have Nick Fairley and all the top prospects covered from every angle as the pre-draft process unfolds.
Draft Tracker
|
Kiper Home
|
Draft Blog
Mel Kiper
Todd McShay's projections
Scouts Inc.'s draft coverage