Discussion
Will HBO be back? It's a 'no-brainer'
HBO was so enamored with its groundbreaking experiment with the NHL and vice versa, it seems certain the relationship will continue with a follow-up next season.
"Don't worry, because it has to work out," HBO Sports president Ross Greenburg told ESPN.com on Friday.
The reaction to "24/7 Penguins/Capitals: Road to the Winter Classic" -- the four-part series that provided viewers an unprecedented view of the two clubs leading up to the outdoor game at Heinz Field ...

Read full story
2011 WINTER CLASSIC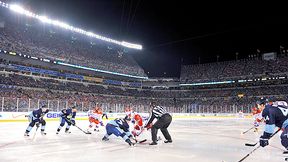 Our gurus recap the 2011 Winter Classic:
CAPITALS 3, PENGUINS 1
LIVE FROM THE WINTER CLASSIC
Steve Levy, Barry Melrose, Scott Burnside and Pierre LeBrun previewed Saturday's game. Check out all the interviews, practice reports, weather updates and answers to your questions.
BONUS COVERAGE