Discussion
Auburn's BCS win: Faith or coaching?
Updated:
January 11, 2011, 4:48 PM ET
By
Tim Keown
| ESPN.com
Gene Chizik distilled it all into a simple proclamation: God was with him. How nice of God, really, to look down upon the Auburn coach and his many noble athletes and bestow upon them the BCS championship. And how sad for Chip Kelly and Oregon, forced to walk off the field at the stadium sponsored by the University of Phoenix (for profit, no religious affiliation) knowing they were thwarted not only by their own reckless decisions but by God, as well.
Perhaps we have a new ...

Read full story
BCS CHAMPIONSHIP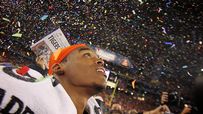 Auburn won its second national championship on the game's final drive. Relive the action.
BCS Championship home »
BCS TITLE GAME
VIDEO