Discussion
What's gone wrong for playoff Patriots?
Spotlighting three troubling trends in three straight New England postseason losses
Three straight postseason losses in three different seasons.
Could there possibly be a common thread?
After all, the previous two games were very different from Sunday's loss to the New York Jets. Super Bowl XLII was a blown fourth-quarter lead. Last season's loss was out of hand just minutes into the game.
Yet there are a few trends that have emerged from the New England Patriots' past three postseason games.
In all three cases, ...

Read full story
PATRIOTS OFFSEASON COMES EARLY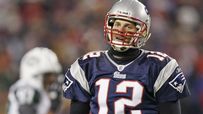 Patriots season ends with shocking loss
Jets 28, Patriots 21 »
Patriots blog »
LOOKING AHEAD
REFLECTING ON THE LOSS