Discussion
A Timeline of the NFL in Los Angeles
Updated:
January 29, 2011, 10:09 AM ET
ESPNLosAngeles.com
Some highlights of the rich history of pro football in Los Angeles:
1945 In the NFL Championship Game, the Cleveland Rams beat the Washington Redskins 15-14 at Cleveland Stadium. It was the last game the franchise played before moving to Los Angeles.
1950 The Los Angeles Rams jump out to a 14-7 lead and are up 28-20 in the fourth quarter before losing the NFL Championship Game to the Cleveland Browns 30-28 in Cleveland.
1951 The Los Angeles Rams, ...

Read full story
THE NFL IN LOS ANGELES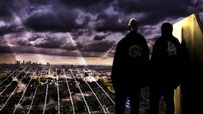 Why is there no NFL team in Los Angeles, the country's second-largest market? It's a study of power brokers and bureaucratic morass stretching over 16 years. ESPNLA takes a look at the history, the present and the future.
THE BITTER 16
ESPN FAN SHOP