Discussion
Cam Ward taken with No. 1 pick
Updated:
January 29, 2011, 1:17 AM ET
Associated Press
RALEIGH, N.C. -- Nicklas Lidstrom's first pick in the inaugural NHL All-Star fantasy draft was his only bad one -- choosing the wrong side of a flipped puck with the No. 1 selection on the line.
Eric Staal of the host Carolina Hurricanes quickly picked goalie Cam Ward -- his teammate -- first overall for Team Staal.
"I was the best player available, I guess," Ward quipped. "Yeah, I was surprised. He wouldn't tell me. He wouldn't lay down his cards, at all. Obviously, I knew I had ...

Read full story
2011 ALL-STAR DRAFT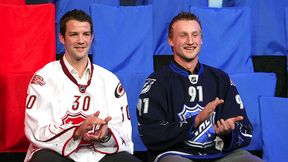 Our gurus recap the 2011 NHL All-Star draft:
TEAM STAAL VS. TEAM LIDSTROM
LIVE FROM RALEIGH