Discussion
Dear NFL, I am L.A.'s lost generation
There is a whole generation of Angelenos with no memory of an L.A. NFL team
Updated:
February 5, 2011, 3:58 PM ET
By
Pedro Moura
| Special to ESPNLosAngeles.com
I have never been to an NFL game in Los Angeles.
I am 20 years old and I can't remember the Los Angeles Rams or Los Angeles Raiders. I'm a rabid football fan, but I have never come close to a Super Bowl or even bought an NFL jersey.
I am the lost generation.
I know -- it sounds more than a bit melodramatic, sort of like a sad sports soap opera that nobody wants to watch. But hear me out. It's important.
The Rams and Raiders left the L.A. area almost together ...

Read full story
THE NFL IN LOS ANGELES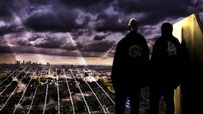 Why is there no NFL team in Los Angeles, the country's second-largest market? It's a study of power brokers and bureaucratic morass stretching over 16 years. ESPNLA takes a look at the history, the present and the future.
THE BITTER 16
ESPN FAN SHOP