Discussion
Farmers Field project? It sounds great
One after another, politicians and sports icons got behind the downtown stadium project
The coordination was staggering. The guest list might never be replicated.
Just about every recognizable city official, sports icon and civic leader in Los Angeles turned out Tuesday morning for the unveiling of the latest -- and probably grandest -- plan to return the NFL to Los Angeles.
It was a show more than a press conference, complete with cheerleaders and a dramatic video presentation.
It was convincing.
It was exciting.
It was a hell of ...

Read full story
THE NFL IN LOS ANGELES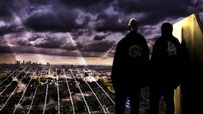 Why is there no NFL team in Los Angeles, the country's second-largest market? It's a study of power brokers and bureaucratic morass stretching over 16 years. ESPNLA takes a look at the history, the present and the future.
THE BITTER 16
ESPN FAN SHOP