Discussion
NFL in L.A.? Some guesses, answers
We hope to shed some light on some questions seen and heard in the past few days
Updated:
February 8, 2011, 2:41 PM ET
By
Arash Markazi
| ESPNLosAngeles.com
After a press conference to announce the naming rights deal for Farmers Field earlier in the week, it seemed the NFL was ready to officially announce it was coming back to Los Angeles the next day. Well, not quite. Construction on the stadium is still at least a year away, and it could be even longer before an NFL team actually relocates to Los Angeles. So when will Los Angeles finally get the NFL back? Here is the answer (or at least our best guess) to that question and others seen and heard ...

Read full story
THE NFL IN LOS ANGELES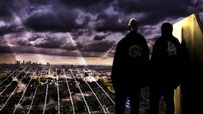 Why is there no NFL team in Los Angeles, the country's second-largest market? It's a study of power brokers and bureaucratic morass stretching over 16 years. ESPNLA takes a look at the history, the present and the future.
THE BITTER 16
ESPN FAN SHOP