Discussion
Offseason grades for the NL Central
Originally Published:
February 8, 2011
By
Jayson Stark
| ESPN.com
The Brewers and Cubs were dealing aces. The Pirates shopped at T.J. Maxx. The Reds and Astros barely shopped at all. And the Cardinals? That cloud hovering above their shopping spree this winter looked suspiciously like Albert Pujols. So while we wait for Albert-palooza to sort itself out, let's hand out our report cards to the cast of the NL Central:
Cincinnati Reds
BIGGEST ADDITIONS: Edgar Renteria, Fred Lewis, Dontrelle Willis, Jeremy Hermida.
BIGGEST SUBTRACTIONS: ...

Read full story
OFFSEASON REPORT CARDS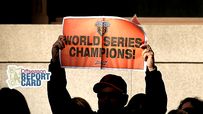 STORIES
VIDEO
SPORTSNATION