Discussion
What if ...
"Fringe" exec producer Jeff Pinkner puts forth a sports scenarios that might have been
Updated:
February 24, 2011, 12:45 PM ET
By
Jeff Pinkner
| Special to ESPN The Magazine
What if? Have any two words started more dorm debates? What if Washington had drowned attempting to cross the Delaware -- would America still be saluting the Queen? What if Jenny Porter and I hadn't broken up in junior year -- would we be married and living in Chicago with two kids and a French bulldog? Seriously, what if I had flippers instead of fingers -- how would I hold this beer?
"Fringe," the TV show J.H. Wyman and I run, imagines an alternate universe -- a world like ours, ...

Read full story
ESPN The Magazine: March 7, 2011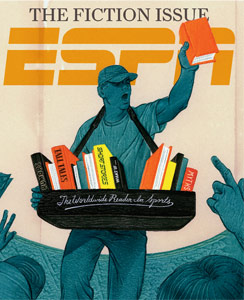 Check out ESPN The Magazine's March 7, 2011 issue below.
Fiction
Features