Discussion
NFL lockout: Will get fooled again
Is it too much to ask that management and labor at least give lip service to the fans?
Originally Published:
March 7, 2011
By
Patrick Hruby
| Special to ESPN.com
Know why the NFL's current labor-management wrangling seems so odious? Think of it like this: You're dating a girl. She's young and pretty. You're old and rich.
But it's not about the money.
OK, sure, maybe you pay her rent. And foot the bill for her nose jobs. Sometimes, the two of you hop on your private jet and head to Paris -- you know, to find something for her to wear at dinner. Other times, you like to chill out and watch the sunset. Over the Aegean Sea. From the helipad ...

Read full story
2011 NFL DRAFT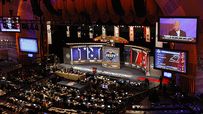 DraftTracker
|
Trade Tracker
|
Team talk
Gallery: Draft photos
|
Draft blog
PICK-BY-PICK ANALYSIS
TEAM-BY-TEAM PICKS
DIVISION DRAFT REVIEWS
ANALYSIS
NFC COLUMNS/BLOG POSTS
AFC COLUMNS/BLOG POSTS
SPORTSNATION
ESPN LOCAL DRAFT CENTERS
ESPN W
MikeReiss

Mike Reiss


Quick-hit thoughts around Patriots & NFL (Cameron Fleming focusing on guard in training, '15 schedule on way etc.). http://t.co/EtgFMORSGy
about an hour ago

C_AdamskiTrib

Chris Adamski


Steelers won't be backed into a corner at NFL Draft http://t.co/4zcJYIoAzy via @triblive @Sportsmanias
about 4 hours ago

TribSports

PittsburghTribSports


Sidney Crosby breaks out for 2 goals to lift @penguins past @NYRangers and even series, writes @Mackey_Trib http://t.co/9czQ0QKhPw
about 7 hours ago

JamesWalkerNFL

James Walker


"@HCharara17: @JamesWalkerNFL Mets are winning the division"-Way too early for that conversation.
about 7 hours ago

JamesWalkerNFL

James Walker


"@LoX_SeCreT: Offense is not producing, Starting pitching is banged up, and our bullpen is a huge concern."-Hard to win w/all that going on.
about 7 hours ago

mikecwright

Michael C. Wright


@mikecwright: If I didn't mention, Matt Bonner and Tiago Splitter are questionable. Both have tightness in rt calf.
about 7 hours ago

JamesWalkerNFL

James Walker


"@ewagner91: no. It's only week 2. Nothing says we can't go on a 7 game win streak?"-True. But I'm not seeing many early signs. #Marlins
about 7 hours ago

JamesWalkerNFL

James Walker


"@PhinFan305:@JamesWalkerNFL losing after calling an "all players meeting" is bad but not time to panic yet"-Those things can go either way.
about 7 hours ago

JamesWalkerNFL

James Walker


"@LoX_SeCreT: @JamesWalkerNFL it's getting there"-Baseball is a long season. But it's been ugly so far, right?
about 7 hours ago

JamesWalkerNFL

James Walker


I asked the same question last week, but I will ask again. It is too early for Miami tweeps to worry about the #Marlins (3-9)?
about 7 hours ago

JamesWalkerNFL

James Walker


"@AlexDonno: @JamesWalkerNFL I'd definitely choose Luke. He's got the win over Jacare plus beat a higher profile opponent tonight"-I agree.
about 8 hours ago

JamesWalkerNFL

James Walker


Luke Rockhold with a dominant win over Machida. The @UFC has an interesting decision between Rockhold and Jacare for next title shot at 185.
about 8 hours ago

JamesWalkerNFL

James Walker


Just a guess: But if Luke Rockhold wins the main event, he gets the next @UFC title shot at 185. If Machida wins, Jacare gets it.
about 8 hours ago

ESPNNBA

NBA on ESPN


Vintage DROSE! Derrick Rose makes the play on defense, and throws down a two-handed dunk against the Bucks.WATCH: http://t.co/gxACt7OuWS
about 9 hours ago

TerryBlountESPN

Terry Blount


Love these old halo caps. http://t.co/neDwO2bpj3
about 9 hours ago

PGutierrezESPN

Paul Gutierrez


#Shame?!? https://t.co/O6osrehWHJ
about 9 hours ago

john_keim

John Keim


@ryanohalloran @Russellmania980 gonna have a good laugh about this one in February in Cali
about 9 hours ago

TerryBlountESPN

Terry Blount


And cool the Angels also wearing 50-year throwbacks. Astros jerseys 4 tonight's to celebrate the 50th Anniversary. http://t.co/JlcNLaFi6p"
about 10 hours ago

mikecwright

Michael C. Wright


Nice to see D Rose Ballin' like this. Long overdue.
about 10 hours ago

ESPNdirocco

Michael DiRocco


Any plumbers here? Switching out kitchen spray hose. Using new but same hardware. Leaking at connex despite washers, thread tape. ???
about 10 hours ago