Discussion
Tommy Hilfiger tackles team uniforms
Who better to imagine a fresh take on some classic game garb?
This article appears in the March 21, 2011 "Style Issue" of ESPN The Magazine
CLOTHES, MARK TWAIN FAMOUSLY SAID, make the man. But do uniforms make a team? We say yes.
And we're not the only ones. A sharp uni (or even a pin-striped one) modeled by a winning squad or magnetic player over the years can bring fans to great emotional heights -- and move them to scoop up replicas by the closetful. So, in putting together an issue focused on matters of style, we knew we ...

Read full story
ESPN The Magazine: March 21, 2011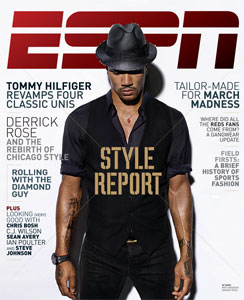 Check out ESPN The Magazine's March 21, 2011 issue below.
Style Report